Facial And Neck Liposuction
As our body ages over time, fat deposits settle into our chin, cheeks, and neck area. Facial and neck liposuction is a sought-after procedure meant to remove fatty tissue in a permanent manner.
This is a minimally invasive procedure that enables the surgeon to eliminate unwanted, subcutaneous fat in specific areas that are unresponsive to diet and exercise.
Facial and neck liposuction is a powerful tool to help sculpt and define some of the features of the face and neck. It can be performed as an independent procedure in patients with a double chin to achieve a defined neck and jaw line.
It is also a powerful adjunct procedure during a facelift and helps define a more youthful jaw and neckline.
Face Liposuction Candidates
The best outcomes from facial and neck liposuction develop in patients who have fatty pockets but good skin elasticity. It is important to understand that this is not a treatment for obesity. If the patient puts on weight after liposuction, the fat will accumulate in the untreated areas.
If required, facial liposuction can be repeated with a limitation on how much can be done in a single surgical procedure.
There are various factors that can impact the outcomes, including genetic factors, physical condition, diet and exercise, alcohol consumption, smoking, and skin tone.
Procedure
Facial liposuction is typically undertaken with a micro-cannula using a tumescent technique. Sometimes liposuction of the neck, chin, and jowls, as well as other facial liposuction procedures, can have better outcomes in these problem sites than other surgical approaches.
In addition, liposuction may be more desirable as it minimizes scarring in comparison to other forms of facial rejuvenation. This procedure is typically undertaken beneath or on the chin and jawline to reduce the appearance of loose skin in the neck, hanging jowls, or a double chin.
Facial liposuction is performed with the patient under general anesthesia. In this procedure, the surgeon places a tiny (under ½ inch), discreet incision(s) in the neck or face. After this, they insert a cannula through the incision. The cannula is attached to a suction machine.
In general, this process takes one hour or more, and the outcomes are permanent. But if the patient gains a substantial amount of weight, they may experience rippling in the treated sites.
Immediate and Long-Term Recovery
The patient may experience burning, numbness, and/or tingling around the incision areas. But these symptoms almost always resolve by themselves.
The inflammation will continue to subside for a few months following facial and neck liposuction. As the swelling resolves, the final results of the procedure will become apparent.
If the treatment area is larger than usual, the recovery will take longer. Along with swelling, the skin surrounding the treated region may appear loose. However, this will tighten over time.
Post-Op Scar Reduction
The scar will start to heal and undergo a process of maturation. In the initial two to three months, the scars may be red and elevated. But in the next six to 12 months, the scars will become soft, flat, and pale.
Outcomes
The complete results of facial and neck liposuction should be noticeable in six months. After recovery, patients could enjoy a sleeker-looking face and neck, more defined muscle tone, decreased cellulite, and a more youthful look.
Non-surgical Options to Reduce Chin & Neck Fat
Kybella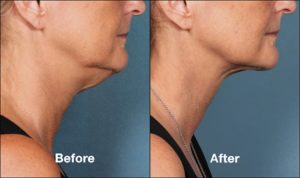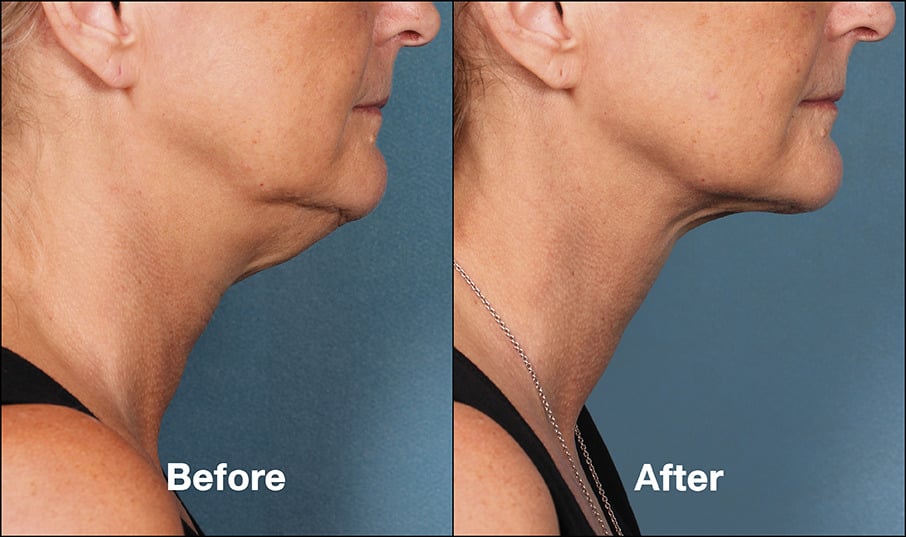 Kybella is the first and only FDA-Approved injectable to improve the appearance of fat beneath the chin by physically destroying fat cells.
Kybella is a new injectable treatment that melts away the excess fat that causes double chins. The substance is a man-made form of deoxycholic acid, a naturally occurring material that helps the body absorb fat. Double chins can be a pesky problem area, but with Kybella you can destroy the fat cells contributing to this unflattering phenomenon.
FaceTite

FaceTite is a non-surgical, minimally-invasive contouring procedure for the face, neck, and small areas of the body that uses RFAL (Radio-Frequency Assisted Lipolysis) technology to safely and effectively tighten your skin—and rejuvenate your appearance. FaceTite is the most advanced facial contouring and refinement procedure that can be applied to the face and neck with saggy skin. This procedure is very similar to a mini facelift, but it comes without the scars and downtime. BodyTite may also be completed in conjunction with FaceTite.
See FaceTite Before & After Photos
Reasons for Considering FaceTite:
Loose skin on the neck
Raise eyebrows
Rejuvenate the jawline
Remove fat from the cheeks
The Procedure
FaceTite is based on the successful technology that is used behind the BodyTite procedure. Similarly to BodyTite, FaceTite uses minimally invasive radio-frequency (RF) energy to melt fat and tighten skin through the use of a small incision in an inconspicuous location of the face. As a result of the heat produced by the RF energy, the fatty cells underneath your face's skin melt away and a vacuum then removes the excess fat out of your skin. This procedure is performed under local anesthesia or light sedation.
For more information about treatments and procedures by Board Certified Facial Plastic and Reconstructive Surgeon, Dr. Eric J. Yavrouian, serving patients in and around Glendale, Pasadena, Burbank and the Greater Los Angeles, CA area call 818-241-2150 or click here to contact him for a consultation.