Juvederm Voluma Dermal Filler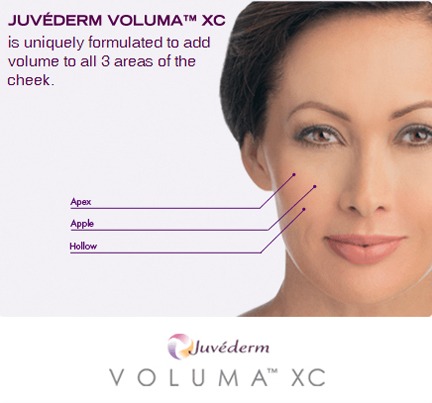 Are your cheeks beginning to lose firmness and volume? Have you noticed any sagging or fine lines in the mid-face area as a result of aging? Age can cause the mid-face to lose volume, which can result in a flat or sunken appearance in the cheeks. This can also cause the skin to begin sagging. Juvederm Voluma is a recent addition to the popular Juvederm dermal filler group.
It is uniquely created to address mid-face concerns, particularly sunken cheeks and sagging skin. Juvederm Voluma can reverse the signs of aging by adding volume and fullness to your cheeks. You are probably a suitable candidate for the procedure if you are looking for cheek augmentation without getting surgical implants.
The dermal filler is specifically approved by the FDA for volumizing the cheeks. Facial plastic and reconstructive surgeon Dr. Eric Yavrouian provides Juvederm Voluma facial filler injections to patients in Glendale, Pasadena, Burbank, Greater Los Angeles, Beverly Hills, CA, and surrounding communities.
How does Juvederm Voluma Work?
Hyaluronic acid is the active ingredient present in all Juvederm variants. This is a naturally occurring compound that is readily found in the skin. It binds to water and acts as a hydrating element. The compound doesn't just hold a thousand times its weight in water, but also ensures the water doesn't evaporate.
Hence, it adds volume by helping the skin retain water. This also keeps the skin supple and youthful looking. Voluma is a more robust solution for volumizing the mid-face since it has a higher concentration of HA. It is specifically designed for making the cheeks appear fuller and plumper.
The dermal filler is injected deep within the skin layers to contour the cheek lines and prevent sagging. This also allows Juvederm Voluma results to last for 18 – 24 months.
Targeted Areas
Voluma is basically created for the cheeks, but can also be used for addressing:
Unwanted wrinkles
Nasolabial folds
Frown lines
Sagging midface
Laugh lines
Crow's feet
Marionette lines
Worry lines
Juvederm Voluma – Dual Advantage
Dermal filler treatments are typically designed for reducing wrinkles and lines by adding volume to the skin. This triggers production of fresh collagen in the deeper facial tissues. Juvederm Voluma dermal filler injections provide dual benefits of volumizing the cheeks and giving it a subtle lift.
Patients enjoy a fuller and rounder face as desired. Your treatment provider will inject the dermal filler gel in the skin at targeted depths for adding a natural look to your cheeks. You will notice instant volumizing in the cheeks after the treatment. New collagen will form over time for more long-lasting and sustainable results.
Vycross Technology
Results of your Juvederm Voluma will substantial and smoother as compared to other types of dermal filler injections. This is because of the innovative Vycross technology. The technology provides smoother composition with a higher gel consistency.
Results are more effective if the dermal filler is delivered under the supervision of a seasoned surgeon. Facial plastic and reconstructive surgeon Dr. Eric Yavrouian receives patients from Glendale, Pasadena, Burbank, Greater Los Angeles, Beverly Hills, CA, and nearby areas for Juvederm Voluma cosmetic filler injectable treatment.
Contact Us For a Consultation with Southern California Facial Plastic and Reconstructive surgeon Dr. Eric Yavrouian
For more information about treatments and procedures by Facial Plastic and Reconstructive Surgeon, Dr. Eric J. Yavrouian, serving patients in and around Glendale, Pasadena, Burbank and the Greater Los Angeles, CA area call 818-241-2150 or click here to contact him for a consultation.