Tighten Your Lower And Upper Eyelids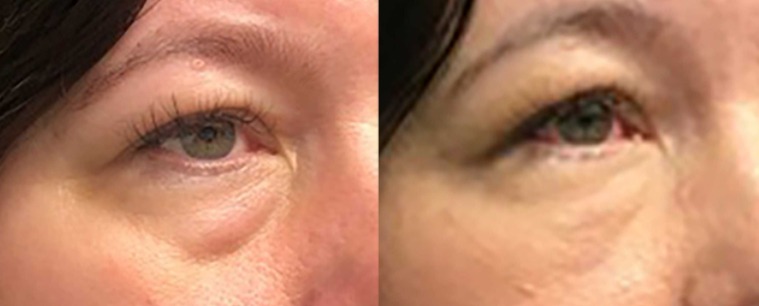 Eyelids stretch with age since the muscles supporting them weaken. This may cause excess fat to gather above or below the eyelids resulting in droopy upper lids, sagging eyebrows, or bags under the eyes.
Severely sagging skin around the eyes can reduce peripheral vision in addition to making you appear older. This is particularly prevalent in the outer and upper parts of the fields of vision. AccuTite is an RF energy based non-surgical treatment that can successfully eliminate or reduce aging lines around the eyelids.
Skin in the lower and upper eyelid can be tightened by AccuTite. It can also reduce areas that contain visible fat, which can make your eyes appear puffy or swollen. A lot of people are satisfied with the results of AccuTite in the form of a youthful and rested appearance and improved self-confidence.
Board certified facial plastic and reconstructive surgeon Dr. Eric Yavrouian provides AccuTite RF energy treatment for tightening and rejuvenation of lower and upper eyelids to patients in Glendale, Pasadena, Burbank, Greater Los Angeles, Beverly Hills, CA, and surrounding communities.
Considering an AccuTite Eyelid Lift
You may want to consider AccuTite non-surgical eyelid lift if you have excess skin on the lower or upper eyelids that bothers you. You may be a suitable candidate for the procedure if:
You have puffy upper eyelids because of fat deposits
You have sagging or loose skin that affects the natural contour of your upper eyelid
You are in general good health
You have fine wrinkles and excess skin on the lower eyelid
Your lower eyelids have bags under or are drooping
Your expectations are realistic and not hinged on perfection
AccuTite for Eyelid Lift
AccuTite is designed for targeting specific facial areas with ultimate precision. It can restore fragile areas, such as eyelids to original vivacity and youth without an invasive procedure. AccuTite makes use of radiofrequency-assisted lipolysis (RFAL) for tightening loose skin the lower and upper eyelids and restoring their shape.
The device contains a slim cannula attached to a firm handle and an external electrode. The surgeon will make a tiny incision after applying local anesthetic to the skin. The cannula will be inserted through the incision within the deeper layers around the eyelids.
The external electrode will stay above surface throughout the treatment. It will communicate with the cannula electrode to send a low radio current through the skin for stimulating natural tightening and regeneration reaction. This is something like zipping the lower and upper eyelids back to make them firmer.
The procedure is FDA cleared and safe when performed by an expert facial plastic surgeon.
Recovery and Results
AccuTite has minimal downtime compared to comprehensive surgical treatments designed for skin sagging. It can take a few weeks for the swelling to go away completely. Most patients may see the final results in a few weeks. You may not need more than one treatment session for obtaining youthful skin since the procedure works at the deeper layers of the skin.
Cosmetic surgeon Dr. Eric Yavrouian receives patients from Pasadena, Burbank, Greater Los Angeles, Beverly Hills, CA, and nearby areas for AccTite RF energy treatment for tightening and rejuvenation of lower and upper eyelids.
Contact Us For a Consultation with Southern California Facial Plastic and Reconstructive surgeon Dr. Eric Yavrouian
For more information about treatments and procedures by Facial Plastic and Reconstructive Surgeon, Dr. Eric J. Yavrouian, serving patients in and around Glendale, Pasadena, Burbank and the Greater Los Angeles, CA area call 818-241-2150 or click here to contact him for a consultation.