Cheek Volume Loss Treatments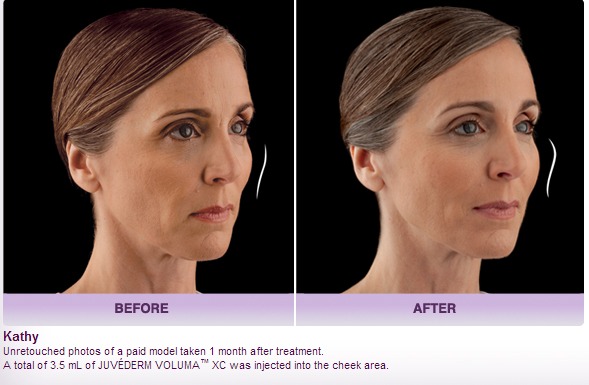 Our skin loses volume for a wide array of reasons with age. This can be anything from unprotected sun exposure to genetics and hormones. The depletion of natural skin collagen begins in the mid-20s. This causes the skin to develop more smile lines, wrinkles, and other signs of aging.
Juvederm Ultra, Juvederm Voluma and other dermal filler treatments can put a temporary halt on this natural aging process, leaving you with a more youthful skin. The dermal filler restores volume to the facial creases and cheeks that causes smile lines around the cheeks and mouth.
Board certified facial plastic and reconstructive surgeon Dr. Eric Yavrouian provides dermal filler injectables for cheek volume restoration and smile line correction to patients in Glendale, Pasadena, Burbank, Greater Los Angeles, Beverly Hills, CA, and surrounding locations.
Mid-face and Cheek Volumizing with Juvederm Voluma
Juvederm Voluma is an innovative dermal filler with a high concentration of hyaluronic acid. This naturally occurring compound helps in keeping the skin together firmly. Juvederm Voluma can be helpful in adding fullness to depleted cheeks for developing a fuller and rounder face.
Juvederm Volume recently got the FDA nod for temporarily correcting age-related mid-face volume loss in adults above the age of 21. The procedure develops chiseled contours and provides the mid-face with a subtle lift. Voluma results can last for as long as 2 years.
The injections will be administered directly at the targeted area by a skilled provider. The gel will work to provide cheek support almost immediately. It will also help in developing natural-looking cheek contours and a youthful curve.
Your skin will feel tauter and firmer because of the HA present in Juvederm Voluma. The soft tissue filler has enjoyed overwhelmingly positive response because of its ability to develop effective and longer-lasting results.
Smile Line Reduction Using Juvederm Filler
Juvederm Volbella can be used around the mouth and lips with results lasting up to 1 year.
Juvederm Vollure rejuvenates laugh lines and nasolabial folds to provide results lasting 18 months.
Juvederm Ultra Plus is developed primarily for reducing nasolabial folds and marionette lines. Results remain intact for 6 to 12 months.
Juvederm Ultra XC is used on the lips with results lasting 9 to 12 months.
Removing Smile Lines with Juvederm XC
Juvederm XC is an FDA approved, innovative injectable gel made from hyaluronic acid molecules. The product is specifically designed for targeting lines around the mouth for 12 months. Hyaluronic acid adds volume and hydrates the skin.
HA begins to break down with age. Repetitive expressions tend to change the skin structure around the mouth area. This contributes to wrinkles and parentheses or deep nasolabial folds.
Juvederm XC is uniquely suited soft dermal filler injection that is used for erasing these lines and folds. The gel has a smooth consistency that makes it one of the more desirable fillers for cosmetic enhancement. Practitioners can make use of this dermal filler for reducing smile lines in both men and women.
Facial cosmetic surgeon Dr. Eric Yavrouian receives patients from Glendale, Pasadena, Burbank, Greater Los Angeles, Beverly Hills, CA, and nearby areas for dermal filler injections to restore cheek volume and improve smile lines.
Contact Us For a Consultation with Southern California Facial Plastic and Reconstructive surgeon Dr. Eric Yavrouian
For more information about treatments and procedures by Facial Plastic and Reconstructive Surgeon, Dr. Eric J. Yavrouian, serving patients in and around Glendale, Pasadena, Burbank and the Greater Los Angeles, CA area call 818-241-2150 or click here to contact him for a consultation.