Lip Enhancement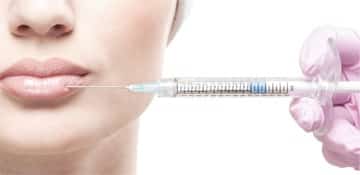 Dermal filler injections are used during non-surgical lip augmentation to provide fuller and plumper looking lips. Dermal injectables can help plump lips, replace lost volume, smooth wrinkles, and restore their youthful appearance.
Dermal fillers comprising of naturally-occurring hyaluronic acid is injected into the lips using a very fine needle. This is unlike regular cosmetic surgery since it is non-invasive. Dermal fillers can be used to add volume to aging lips or enhance younger lips.
Facial plastic and reconstructive surgeon Dr. Eric Yavrouian provides non-surgical lip enhancement treatments to patients in Glendale, Pasadena, Burbank, Greater Los Angeles, Beverly Hills, CA, and surrounding communities.
Advantages of Lip Filler Treatment
Dermal fillers used during non-surgical lip enhancement treatment offer the following benefits:
Safe, FDA approved
Replenishes lost volume
Natural results
Non-invasive
Non-surgical
Goals of Non-Surgical Lip Enhancement
Patients visiting a facial plastic and reconstructive surgeon don't always have the same goals in mind. Their goals can vary by gender, age, and ethnicity. For instance, younger patients usually want to add more volume to their lips or improve the overall asymmetry while older patients want to correct perioral lines or thinning lips.
Your surgeon will take pre-treatment photographs during the initial consultation. They will then discuss your goals in detail and evaluate whether you make a good candidate for the procedure or not. These are a few goals that can be achieved with lip filler treatments:
Reduction of lip lines
Increase in lip definition
Increase in lip volume
Correction of lip asymmetry
Dermal Filler Options for Lip Augmentation
There are several dermal filler options when you want to enhance the shape and size of your lips in a non-surgical, non-invasive, and safe way. Your treatment provider will discuss your goals in detail before recommending the best treatment plan. They will offer several treatment options depending on your personal goals and appearance.
Generally, the following dermal filler solutions are used in a lip augmentation procedure:
Restylane Refyne
Restylane
Restylane Kysse
Restylane Silk
Juvederm Volbella
Juvederm Ultra
It is important that you let the treatment provider know about your aesthetic goals and expectations. Each of these dermal fillers offers unique and different advantages or results. For instance, Restylane is a salient substance if you want to enhance your lip volume significantly, while Restylane Silk provides for more subtle and natural looking enhancements.
Restylane Refyne is a more popular lip filler treatment among young patients looking for shapelier lips. It is followed by Restylane Silk. Restylane is usually preferred by older patients seeking help with loss of lip definition and perioral lines.
Restylane Kysse is the more recent addition to the treatment options after being awarded FDA approval. Many plastic surgeons have started offering this dermal filler because it creates more natural-looking results without hampering normal expression.
While Juvederm offers the same results, Restylane Kysse gets the job done with significantly less product. Additionally, the results of lip enhancement can last for up to a year. Facial plastic and reconstructive surgeon Dr. Eric Yavrouian receives patients from Glendale, Pasadena, Burbank, Greater Los Angeles, Beverly Hills, CA, and nearby areas for non-surgical lip enhancement procedures.
Contact Us For a Consultation with Southern California Facial Plastic and Reconstructive surgeon Dr. Eric Yavrouian
For more information about treatments and procedures by Facial Plastic and Reconstructive Surgeon, Dr. Eric J. Yavrouian, serving patients in and around Glendale, Pasadena, Burbank and the Greater Los Angeles, CA area call 818-241-2150 or click here to contact him for a consultation.