Juvederm VOLUMA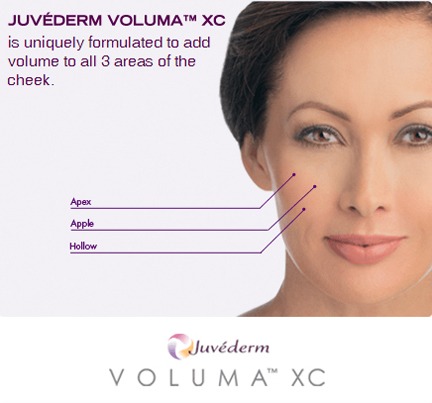 Juvederm Voluma is specifically approved by the FDA as a dermal filler for restoring volume in the cheeks. It is an effective solution for adults seeking alternatives to invasive cosmetic surgery for achieving cheek volume and midface lift. Treatment provider, at the time of initial consultation, will provide an overall estimate.
It is important to understand the costs to make an informed decision. Patients should ask as many questions as they want related to the procedure and costs. They should also take time to carry out their own cost-benefit analysis between alternative procedures.
Board certified facial plastic and reconstructive surgeon Dr. Eric Yavrouian provides Juvederm Voluma soft tissue filler to patients in Glendale, Pasadena, Burbank, Greater Los Angeles, Beverly Hills, CA, and surrounding locations.
Cost-Benefit Comparison
Juvederm Voluma dermal injections are highly cost-competitive as compared to facial cosmetic surgery procedures. Juvederm Voluma is usually more cost effective in the long run as compared to non-surgical facial procedures involving laser, ultrasonic technologies, and RF energy.
It takes less than 30 minutes to complete the procedure and does not involve any costs related to anesthesia, medical tests, or post-operative doctor visits.
Juvederm Voluma is a highly sustainable treatment as compared to most dermal fillers. They offer long lasting and sustainable results while others offer results lasting for 6 – 12 months. Patients, with Juvederm Voluma, can enjoy results lasting 2 years. In hindsight, Voluma treatment comes out to be cost-effective over a period of time.
Financial Factors
The price tag of Juvederm Voluma can differ significantly between two treatment providers. In fact, it can also differ for two patients getting the treatment at the same practice. Location of the treatment provider is an important financial factor. The cost of living differs between metropolitan areas, urban centers, and towns.
Costs may differ depending on the quality of treatment and the kind of care provided at a practice location as well. You should always consider getting your cosmetic treatments from board certified dermatologists.
Overall Monetary Evaluation
The amount of medication needed for your particular treatment will determine the overall cost. Juvederm Voluma syringes come in various sizes. Your treatment provider will give you a syringe that best meets your specific needs. A smaller amount of medication is needed when the surface area to be treated is small.
These treatments usually have a lower cost associated with them as compared to larger surface areas, such as the forehead. The overall dollar amount for volumizing cheeks is usually high because of the large surface area involved. Additionally, cheek volumizing is a highly intensive procedure requiring more medication.
Financing and Insurance Options
Juvederm Voluma is an aesthetic treatment and is usually not covered under routine health insurance. However, you can always opt for low interest financing options through banks or professional medical care financing firms. You can also pay using credit cards or pick up a loan from your friends and family. Medical financiers tend to offer quick loan approvals at competitive rates.
Facial plastic and reconstructive surgeon Dr. Eric Yavrouian receives patients from Glendale, Pasadena, Burbank, Greater Los Angeles, Beverly Hills, CA, and nearby areas for Juvederm Voluma facial filler injections.
Contact Us For a Consultation with Southern California Facial Plastic and Reconstructive surgeon Dr. Eric Yavrouian
For more information about treatments and procedures by Facial Plastic and Reconstructive Surgeon, Dr. Eric J. Yavrouian, serving patients in and around Glendale, Pasadena, Burbank and the Greater Los Angeles, CA area call 818-241-2150 or click here to contact him for a consultation.