Collagen Induction Therapy (Microneedling) Cost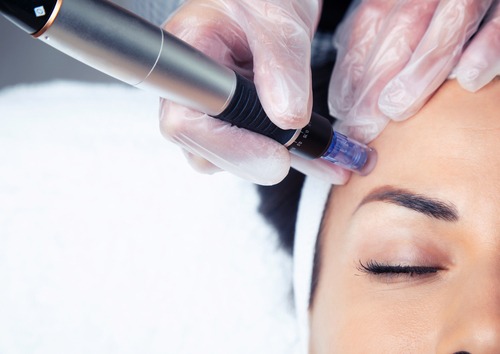 Microneedling is an effective, reliable, and safe skin enhancement treatment for people who want to reduce visible signs of aging and sun damage. The treatment can also be used for reducing the appearance of other skin imperfections without actually undergoing any cosmetic surgery.
Your treatment provider will walk you through different aspects of the treatment and procedure during the pre-op consultation. This discussion will include the approximate costs related to the procedure. The first goal of any responsible treatment provider is to help the patient make the right decision on the basis of their budget and needs.
Microneedling is an elective cosmetic procedure, which means that your healthcare insurance provider may not cover the costs. This makes it important that you ask as many questions as you want to regarding cost of the treatment.
Facial plastic and reconstructive surgeon Dr. Eric Yavrouian provides microneedling for skin rejuvenation to patients in Glendale, Pasadena, Burbank, Greater Los Angeles, Beverly Hills, CA, and surrounding locations.
Microneedling Cost Comparison
Generally, microneedling treatments are less expensive as compared to plastic surgeries, such as facelifts. Surgical procedures tend to involve several cost factors, such as general anesthesia costs, surgeon's fee, surgical room costs and post- or pre-operative expenses.
In contrast, microneedling is an outpatient procedure which can be administered in-office. The procedure involves almost none of the cost components inherent in surgical procedures. Most non-invasive or non-surgical procedures, such as microdermabrasion, IPL, chemical peels, laser skin resurfacing, and facial filler injectables tend to be more expensive than microneedling. They may not offer the same level of results as well.
Cost Variations in Microneedling
Microneedling can be performed in conjunction or independently with other non-surgical treatments. Patients can choose the treatment combination they want in consultation with their treatment provider. In some cases, PRP rejuvenation may also be carried out to enhance the results of microneedling.
The extent of skin imperfections determines the choice of the procedure. The size of treatment areas and the number of sessions required may also differ among the patients. Patients that only require 2 to 3 sessions for optimal results may need to pay less than those that require more.
Another cost variation factor is the location of the treatment venue or practice. Microneedling treatments in main urban centers or busy metropolitan areas tend to be higher. This is because these areas have greater overheads and a higher real estate cost burden as opposed to interior towns.
The overall dollar amount may also be affected by the quality standards, customized care, top qualified support team, adherence to safety protocols, and type of technology and equipment. It's vital that you ask all relevant questions about the financial ramifications during the pre-op consultation.
Available Financing Options
Patients may discuss payment options with the treatment provider or their team. There are many third-party financing options from professional healthcare financing firms at highly competitive rates and easy payment terms. You can pay in convenient monthly installments of up to 60 months.
Cosmetic surgeon Dr. Eric Yavrouian receives patients from Glendale, Pasadena, Burbank, Greater Los Angeles, Beverly Hills, CA, and nearby areas for microneedling skin enhancement procedure.
Contact Us For a Consultation with Southern California Facial Plastic and Reconstructive surgeon Dr. Eric Yavrouian
For more information about treatments and procedures by Facial Plastic and Reconstructive Surgeon, Dr. Eric J. Yavrouian, serving patients in and around Glendale, Pasadena, Burbank and the Greater Los Angeles, CA area call 818-241-2150 or click here to contact him for a consultation.