Which procedure is the best skin rejuvenation for you?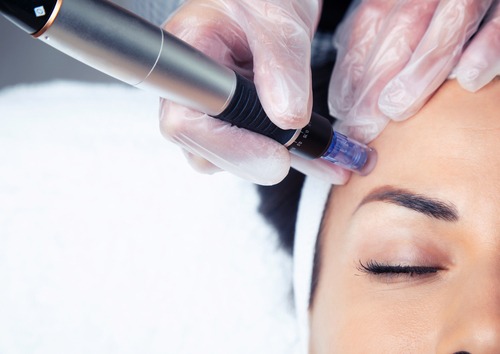 Microneedling and microdermabrasion are used for treating medical and cosmetic skin conditions. The procedures don't take more than a few minutes to an hour per session. There is almost zero to little downtime involved in the treatment. However, you may require multiple treatment sessions for addressing your concerns.
Board certified facial plastic and reconstructive surgeon Dr. Eric Yavrouian provides safe and proven skin rejuvenation procedures, such as microdermabrasion and microneedling to patients in Glendale, Pasadena, Burbank, Greater Los Angeles, Beverly Hills, CA, and surrounding communities.
Understanding Microdermabrasion
This is a form of dermabrasion and skin resurfacing. It can be performed on the face and the body for exfoliating or removing damaged and dead skin cells at the topmost skin layer.
Microdermabrasion is recommended by the American College of Dermatology for:
uneven skin tone (hyperpigmentation)
sunspots (melasma)
acne scars
age spots
dull complexion
How does it work?
Microdermabrasion works a lot like gentle sandpaper on the skin. A special machine is used to remove the topmost layer of the skin. The machine may have a wand encrusted with tiny crystals or a diamond tip for polishing the skin. Certain microdermabrasion machines include a built-in vacuum as well for sucking up the debris removed from the skin.
You can notice results almost immediately following a microdermabrasion treatment. The skin will feel smoother, look brighter, and more even-toned. Microdermabrasion machines for home use are less powerful than the ones used by skincare experts.
Understanding Microneedling
Microneedling can be performed on the scalp, face, and the body. This procedure is relatively newer as compared to microdermabrasion and is also known as:
collagen induction therapy
percutaneous collagen induction
skin needling
Risks and benefits of microneedling are not well known. More research is required for understanding how the treatment works on improving the skin. However, as the American Academy of Dermatology, microneedling can be used for improving skin conditions, such as:
scars
acne scars
fine lines
wrinkles
large pores
hyperpigmentation
brown spots
stretch marks
uneven skin texture
How does it work?
Microneedling triggers the skin to repair itself. It can promote collagen growth and elastin. Collagen is useful for plumping the skin and reducing wrinkles and fine lines. Tiny holes are poked in the skin using 0.5 to 3mm needles.
Microneedling is usually performed using a dermaroller that contains a small wheel with rows of fine needles. 250 holes can be made per square centimeter by rolling it on the skin. The doctor may use a microneedling machine as well. This has a tip similar to the one present on a tattoo machine. The tip pushes the needle back and forth as the machine is moved across the skin.
Microneedling is marginally painful as compared to microdermabrasion. Numbing cream may be applied to your skin by the healthcare provider before the treatment. It may take several weeks for complete benefits to manifest following a microneedling procedure. You may require more than a single treatment as well.
Facial plastic and reconstructive surgeon Dr. Eric Yavrouian receives patients from Glendale, Pasadena, Burbank, Greater Los Angeles, Beverly Hills, CA, and nearby areas for advanced and innovative microdermabrasion and microneedling skin rejuvenation procedures.
Contact Us For a Consultation with Southern California Facial Plastic and Reconstructive surgeon Dr. Eric Yavrouian
For more information about treatments and procedures by Facial Plastic and Reconstructive Surgeon, Dr. Eric J. Yavrouian, serving patients in and around Glendale, Pasadena, Burbank and the Greater Los Angeles, CA area call 818-241-2150 or click here to contact him for a consultation.