Restylane®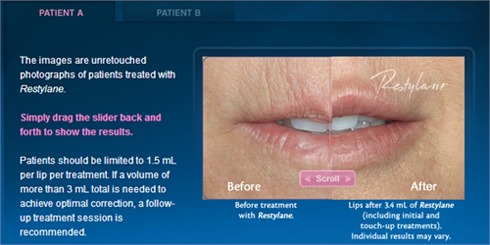 Restylane dermal filler is a nonsurgical injectable created from NASHA (non-animal stabilized hyaluronic acid). This is a popular dermal filler gel and doesn't include any animal products. Hyaluronic acid (HA) is the main ingredient in this injectable. HA is a naturally occurring compound in the human skin and tissue.
Hence, you don't need to undergo expensive testing for allergies before getting the dermal filler gel. Board certified facial plastic and reconstructive surgeon Dr. Eric Yavrouian provides Restylane soft tissue filler injections to fill facial wrinkles and for lip enhancement to patients in Glendale, Pasadena, Burbank, Greater Los Angeles, Beverly Hills, CA, and surrounding communities.
Benefits of Restylane
Restylane filler injectable can be used by surgeons for revitalizing the facial skin and restoring lost volume. A major advantage of the dermal filler is that it is biodegradable in nature. The formula will disintegrate into the tissue slowly. However, the results would still be sustainable and last anywhere from 6 months to a year.
You can decrease folds, wrinkles, and scars while enhancing your facial contours by using Restylane injectables. You can also reduce minor imperfections and depressions in the skin. These are common areas where Restylane can be used:
Chin enhancement
Reduction of wrinkles
Filling depressions beneath the eyes
Reducing acne scars
Volumizing cheek hollows
Lifting the brows
Lip augmentation and definition
Reducing the appearance of nasolabial folds
Softening the impact of jowls
Reducing the effect of worry lines, smile lines, smoker's lines, marionette lines, and crow's feet
Eye Rejuvenation
Dark circles and under-eye hollows can affect the face and make it look dull and aged. Restylane dermal injectables are safe, effective, and proven for treating various conditions. The dermal filler can be used for restoration of youth and volume in the eye area in a noninvasive manner.
In this procedure, the treatment provider will inject Restylane around the orbital rim. This is a safe place for injecting the dermal filler. Typically, 1 ml of the formula is injected for correcting dark circles. However, the precise amount required will depend on your facial concerns.
Restylane is a popular dermal filler treatment for the eyes since it can be molded into any preferred shape. In case of bumps or lumps, the treatment provider can modify the viscosity for smoothing things under the eye area.
Restylane Lip Augmentation
Lines around the lips and mouth become more prominent with age. This can result in loss of shape, thinning of the lips, and increase in vertical lines. Restylane Silk is an FDA approved treatment for mild augmentation of the lips. It works towards smoothing lines and wrinkles around the mouth. Restylane Silk helps in restoring the smile.
Created on a Unique NASHA Technology
Restylane makes use of NASHA Technology, which allows all their product lines to have uniform particle size for treating different body parts. Finer particles are used for detailed shaping and small wrinkles.
Medium particles are used for moderate to severe wrinkles, folds, and laugh lines. Large particles are used for severe lines and wrinkles. Facial plastic and reconstructive surgeon Dr. Eric Yavrouian receives patients from Glendale, Pasadena, Burbank, Greater Los Angeles, Beverly Hills, CA, and nearby areas for Restylane dermal filler injections to remove facial wrinkles and fill the lips.
Contact Us For a Consultation with Southern California Facial Plastic and Reconstructive surgeon Dr. Eric Yavrouian
For more information about treatments and procedures by Facial Plastic and Reconstructive Surgeon, Dr. Eric J. Yavrouian, serving patients in and around Glendale, Pasadena, Burbank and the Greater Los Angeles, CA area call 818-241-2150 or click here to contact him for a consultation.