Dr. Eric Yavrouian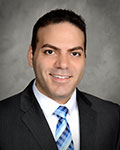 Dr. Eric J. Yavrouian is a reputed plastic surgeon with advanced training and experience in a number of surgical and non-surgical procedures related to the face and neck. As a fellowship trained Facial Plastic and Reconstructive Surgeon, he has specialized expertise in providing state of the art procedures such as facelift, neck lift, rhinoplasty, otoplasty, eyelid lift, chin and cheek augmentation, among others.
As a board certified otolaryngologist, Dr. Yavrouian is in a strong position to provide head and neck related cosmetic surgery procedures using the latest surgical techniques. He is a member of the American Academy of Facial Plastic and Reconstructive Surgery and the American Academy of Otolaryngology – Head and Neck Surgery. Patients in Glendale, Pasadena, Burbank, CA, and surrounding communities have an opportunity to receive treatment from Dr. Yavrouian.
Board Certification
Dr. Eric Yavrouian is a Diplomate of the American Board of Otolaryngology, and an experienced facial plastic and reconstructive surgeon. In addition to his state of the art facial plastic surgery practice, Dr. Yavrouian is also a part of ENT Surgical Associates, which is a practice of top repute, serving Glendale, Pasadena, Burbank, CA and nearby locations for over 40 years.
Education and Training
Dr. Yavrouian received his undergraduate education at the University of California, Los Angeles. He graduated Summa Cum Laude and received the Departmental Highest Honors with a Bachelor's of Science in Biochemistry. He pursued his medical degree from the Keck School of Medicine of the University of Southern Californi, and graduated with Highest Distinction. Following this, he completed his residency at USC with specialization in Otolaryngology – Head and Neck Surgery.
He further completed a fellowship in Facial Plastic and Reconstructive Surgery in Houston, TX, and joined the attending staff for the University of Texas at Houston Department of Otolaryngology as a clinical instructor in Facial Plastic and Reconstructive Surgery. He has published several medical journal articles as well as lectured on facial plastic and cosmetic surgery topics over the years.
Focus on Facial Procedures
Dr. Yavrouian is highly trained and experienced in various aspects of facial plastic and reconstructive surgery. However, he has maintained his primary focus at his practice on facial procedures such as cosmetic and functional rhinoplasty, revision rhinoplasty, and procedures related to facial rejuvenation such as facelift. Revision procedures are typically more complex than primary procedures, and Dr. Yavrouian is fully trained and experienced to provide revision surgeries related to the face and neck area.
Customized Treatment
Dr. Yavrouian believes that it is possible to meet most or all of the patient's aesthetic goals and expectations if the plastic surgeon focuses on providing customized surgical and non-surgical solutions. Each individual's facial anatomy is unique, which should be addressed with personalized solutions designed to provide conservative as well as highly effective results.
Dr. Yavrouian combines the principles of science with the principles of art to achieve outcomes for the face that are not only highly safe and desirable, but also artistic and aesthetically superior. Natural looking results ensure that the procedure does not reveal itself conspicuously to others, and yet achieves the desired aesthetic impact and look.
For more information about treatments and procedures by Facial Plastic and Reconstructive Surgeon, Dr. Eric J. Yavrouian, serving patients in and around Glendale, Pasadena, Burbank and the Greater Los Angeles, CA area call 818-241-2150 or click here to contact him for a consultation.